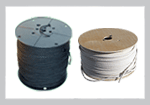 The beginning of the year brought a big change from UPS.
Effective now, packages weighing 50 lbs. or more, will be subject to a $24.00 surcharge for ground shipping.
Our packers and shippers already do all they can to make sure that the packages you receive from us are not too heavy to handle, and than won't change.
Still, don't be surprised if you get future orders in more, smaller boxes.
Currently, a case of gaffers tape weighs less than 40 lbs., so that shipping will not be impacted.