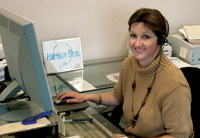 We're all about solving problems. That means helping you find the right product for solving production problems quickly and efficiently.
Our selection of products grew from many years in entertainment and audio visual production, and we are always on the lookout for something that we consider a "better mousetrap".
We love talking to our customers and we are ready to hear about the problem you are trying to solve and how we might help. Sometimes that means telling you that we don't think a product you may be considering using is not right for your needs.
Video production crews, concert tour techs, purchasing agents and event producers all turn to us to provide " just in time " production supplies.
Through our web sites, we're open 24/7 and during business hours all phone calls coming in to our toll free lines get answered by a person eager to help with whatever you need.
Our web sites have online chat and we respond to emails within the hour during business hours.
Need more info? Click here to contact us.
TheTapeworks.com
Voice 866-386-8335
Fax 800-327-6651
Email sales@harrisonbros.com
Harrison Bros. Inc.
47 North Chatham Pkwy.
Chapel Hill, NC 27517