When you do an Internet search for buying gaffers tape these days, all the search results seem to point to the big box hardware stores, like Home Depot and Lowes, or companies that sell all sorts of packaging products. Gaffers tape buyers "in the know" realize that Home Depot and Uline have significantly higher prices than online specialty vendors and stores like Lowe's and Home Depot don't even stock gaffers tape.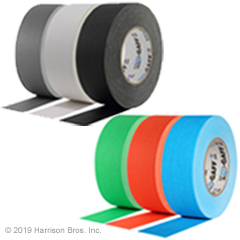 The staff at TheTapeworks.com have over fifty years experience in producing concerts and special events and making films and video. They have hands on experience in taping down literally miles of cable and they know both quality and value when it comes to buying gaff tape and other production supplies.
If you live in a place that is large enough to have a theatrical supply store you can make a retail purchase, but most of these outlets have limited inventory and prices much higher than online sources.
If you are willing to look beyond the first page of Internet search results you'll find vendors who know the product, understand how to price what you need without including high dollar overhead and who can get you exactly what you need while saving you a trip to a Home Depot that may not even have what you are looking for.
We're ready every day at TheTapeworks.com to provide you with a seamless purchasing experience with the lowest prices and best guarantee anywhere.
If that's not enough, all purchases of $300.00 or more automatically qualify for a 5% discount at checkout!